KDI Minds Collide #KidsDeserveIt
Kids Deserve It!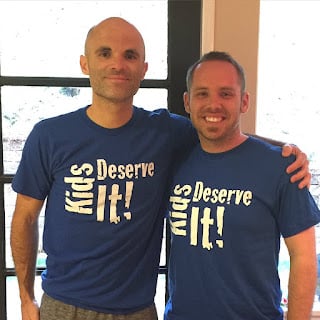 Writing our last chapter!
Sometimes things just fall into place. It doesn't make sense all the time, but it always seems to happen at just the right time. The important thing to remember is – just go with it, there's a reason it's all happening!
Who would have known that six months ago, we would have met face to face and hit it off so well at
NAESP
? That it would have led to the creation of
Kids Deserve It
and a book deal?
That the working relationship would turn into a friendship where it was like we'd found our long lost brother. Where our world's began to collide on more than just a work level.
This weekend we finally had the opportunity to spend some time in person together since July! And even more than that our families got to meet as well.
Friday began the excursion. Todd was able to spend the entire day at Adam's
school
shadowing him and meeting a few of his teachers. We even had two other principal buddies of ours,
Brandom Blom
and
Jesse Woodward
, show up! It was a day filled with great professional conversation.
But the best part came the next day. On Saturday our families collided and we spent the entire day touring San Francisco. We visited the Golden Gate Bridge, rode a cable car, walked the streets, saw thousands of Santas, rode on BART, ran to
Twitter Headquarters
, and even rode (yes, all 6 of us) in a Pedicab.
And as we sat across the table from each other writing the ending of our book on Sunday morning while Adam made blueberry pancakes, it all hit us. Look at the world we live in. A world where when we choose to connect with others and put ourselves out there, we can really find something special.
Over the last six months our worlds have been flipped upside down. There's so much awesomeness that has happened. And this weekend, spending it together with our families, was only a further reminder of even greater things to come!
So please remember – take the time to connect with people in person. With Social Media we all have so many 'friends' and it's the real friends that we believe truly make the difference. They make you a better person for you, your family, your job and for those around you everyday.
Be awesome, connect with others, practice gratitude and don't forget to smile – you deserve it!


Writing + breakfast at Adam's house!
Pedi cab with both families, thanks to Chris for pedaling us!
Everyone loves a cable car ride!
Golden Gate Bridge
The Welcome Family